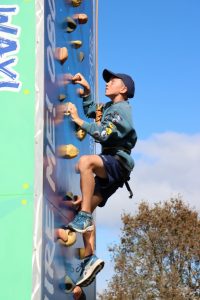 Our Year 8 outdoor programme was brought in this year as an alternative to camp – canceled because of the COVID escalation in Term 1. In the first three weeks of Term 2, over 700 year 8 students have taken part in a two day outdoor programme. Students completed a range of outdoor activities designed to build on the Northcross Learner Dispositions of being engaged, self-motivated, persevering when things get tough and collaboration. Special thanks to all our parent volunteers who made these days possible.
Below, two of our year 8 students, Drico and Scarlet, tell us about their experience:
On the 4th May, Room 7 and 6 went to Lake Pupuke. The activities we did on the day included kayaking, Waka paddling, and raft building. At school EOTC was Rock climbing, Frisbee golf, Archery, and bush survival.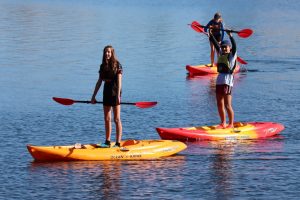 During kayaking, multiple people fell off their kayaks, but we had loads of fun. Near the end of our kayaking session we were told to paddle back in a unique way. Some lay down, some people stood up. Some people even fell off trying to knock off the people standing. The Waka paddling was an amazing experience and we even got to paddle back to the dock  while closing our eyes. We also did a Karakia while the instructor was rowing us out into the lake. It was really enjoyable to learn about how the Maori row a waka and the chant they do to paddle in time. Raft building was really lively as we had to answer some tricky questions to earn our materials. One of the tasks we had to do was count to ten in five different languages; another was we had to name ten different native birds in Maori. Just before we left for the day, a goose came along and started hissing at us. He was snooping through everyone's bags, all of us were frightened and the instructor just shooed the goose away. He wasn't even close to being scared. This was the end of Lake Pupuke, what a way to go out.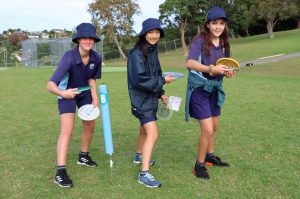 A week later on the 11th of May we did the at school part of EOTC. On that day we did Frisbee golf, Archery, Bush survival and Rock climbing. In Frisbee golf we had to try and throw a frisbee to try and hit a pin that stuck out of the ground and we went through a nine pin course. We did it twice. Our instructor was really nice and taught us how to throw the frisbees and what the difference is between the driver frisbee and the putter frisbee. For rock climbing most people were able to reach the top or near the top. The instructor and the parents were really kind. There were three levels, Easy, Medium, and Hard. Some of the people who had never done rock climbing before were able to do really well and get to the top of the medium. It was undoubtedly entertaining and we were able to feel like SpiderMan. Archery was extremely fun and we even did a competition some people missed the targets and some people never missed one but over time with practise we definitely got better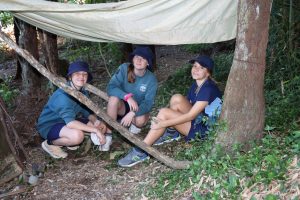 In bush survival we learnt the outdoor principles of 3. You can't go 3 minutes without oxygen, 3 hours without shelter, 3 days without water, and 3 weeks without food. We also got to make a shelter out of some materials we gathered, including using some natural materials around us such as dead sticks and ferns. 
Overall it was just an incredible experience that we're pretty sure all the year eights enjoyed. We think this was a great thing to replace our camp and we definitely learnt multiple skills from EOTC.
Written By Scarlet Viljoen & Drico Slabber