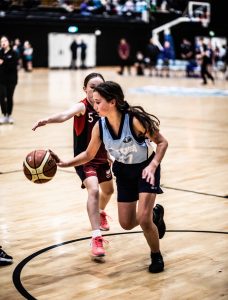 Not only did many of our Northcross teams star in the last semester of NH Basketball but we can also celebrate a completed competition. A big thanks to all the coaches, managers and players who managed to juggle things so that the players could play. A big congratulations to the following six teams that finished first in their grades.
GIRLS LEAGUE 1- NX STARS coached by Ruby Hallett and Josh Davis, Managed by Anna Lewthwaite.  The players that had an intense game with several players missing due to illness and injury to win by 1 basket 16-14. Kyla McKenlay, Laila Lodge, Lola Horton, Lexi Turner, Madison Pardington, Michelle Catterall, Riley Sina'au, Saya Lang and Sienna Maurice.
GIRLS LEAGUE 3- NX KNICKS coached by Jonathan Latimer and managed by Nicole Leith. Winning the final 15-6 Carly Cameron, Chloe McPherson, Emi Liang, Jayden Swanepoel, Olga Domracheva, Regan Leith, Tillie Lancaster, Zara Latimer.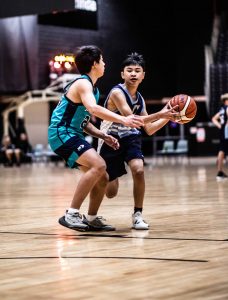 BOYS LEAGUE 3- NX SUNS coached by Chris Round and managed by Juliette Cardey. With a huge win 37-10  Caleb Round, Cooper Cardey, Cooper Robinson-Lea, Daniel Zhou, Devin Stewart, Harry Oliver, Luke Bamford, Yoyo Zhang
BOYS LEAGUE 8- NX CAVALIERS coached by Karl Pouhotaua and managed by Tamara Walker. A great game that ended in a draw so was decided by a shoot-out Players Alex Xiao, Charlie Gow, Flynn Davis, Gyu Teck Kim, Jayden Puohotaua, Kees Young,Ryder Williamson, Tayte Stott.
BOYS LEAGUE 9- NX NUGGETS coached by Amberlee Tomsett and managed by Kelly McLuckie. A close encounter winning 27-23. Players Alexandros Montes, Deon van Vuuren, Dylan Murray, Finn McLuckie, Jack Lees, Liam Turner, Monty Harwood, Riley Tomsett, Zane Pretorius.
BOYS LEAGUE 10- NX TIMBERWOLVES coached by Jared Horsfall and managed by Debbie Horsfall and Sarah Webber. An impressive win 18-5. Players Alex Hotter, Finn Webber, Frankie Dolphin, Isaac Leith, Joshua Soares, Morgan Wainhouse, Muhammad Moharam, Reno Horsfall, Ryan Caldwell.
A big congratulations to the following teams that finished with a silver medal.
BOYS LEAGUE 1- NX TRAILBLAZERS
BOYS LEAGUE 2- NX SONICS
BOYS LEAGUE 11- NX THUNDER
BOYS LEAGUE 12- NX HORNETS
TUESDAY LEAGUE – NX RAPTORS
A very big thank you to all the parents and teaching staff that gave up their valuable time to coach and manage the teams especially under the conditions we faced this semester.