In the first week of September over 140 Northcross athletes headed to Tauranga  for the annual AIMS Games, ready to give their all against the best the country could offer. After having the last two AIMS Games canceled, everyone was incredibly excited to get there and be a part of this awesome experience.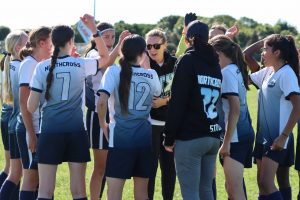 It was an amazingly successful week for all our athletes as they showed outstanding determination and commitment, playing their hearts out in the hope that they could secure a win and be one step closer to achieving the ultimate goal – the title "NZ Champions". The skill, agility, stamina and talent shown by all, was incredibly impressive and while there were some nerve wracking, and at times heartbreaking moments, our students showed outstanding character and resilience, making NX very, very proud. The NX team also displayed incredible sportsmanship throughout the week, supporting not only each other but other schools as well – they were all excellent ambassadors for NX.   
This year we achieved, overall, some of the best results in our 15 years of attending AIMS – with 8 of our Team Codes and many of our Individual Code athletes finishing in the top 10 of their respective competition. This in itself is a massive achievement. Below are the final placings for our Team Codes and podium results from our Individual Codes:
Hockey Boys:

1st place overall – Gold medalists

Football Girls: 

2nd place overall – Silver medalists

Waterpolo:

4th place overall

Rugby 7's: 

5th place overall

Basketball Girls:

6th place overall

Hockey Girls: 

8th place overall

Football Boys:

9th place overall

Basketball Boys:

10th place overall

Netball: 

12th place overall

Futsal:

17th place overall

Cross Country:

12km Championship Relay – NX Team 5th place overall

Golf:

Juwon Kim – 1st place in 18 hole  – Gold medalist

Tennis:

Marta Pozaroszczyk – 1st place – Gold medalist; 

Marta Pozaroszczyk & Rosie Richardson – Team Gold

Gymnastics:

Lexie Findlater – 1st place Trampoline Flyers;

Imogen Anderson – 2nd place Artistic Flyers

Swimming:

Liam Curling – 2nd 100 IM,  1st 50 Fly, 3rd 100 Fly,  2nd 50 Free,  2nd 50 Back;

Sean Burke – 2nd Breaststroke; 

4 x 50  Free Boys Relay Team – Silver Medalists

BMX: 

Sophie Colquhoun – 1st Individual & 2nd in Time Trials
NX also represented exceptionally well in the following sporting codes: Badminton, Rock Climbing, Tennis, BMX, Mountain Biking, Swimming, Gymnastics, Cross Country and Golf. 
A HUGE THANKS to our special team of Teachers, Coaches, Managers and Support Staff who went above and beyond to organise, support and inspire the NX AIMS team this year. The support, effort and commitment they gave to their team, both during the lead up and throughout the actual week, was second to none! 
Also a BIG thanks to all those who traveled to Tauranga to support from the sidelines – your encouraging words, positivity and enthusiasm was amazing – we really appreciated it! Thank you!
Shannon Hale
Director of Sport