Kia ora Parents and Whanau
At Northcross we provide students with a purpose built, integrative curriculum that meets the specific development of our learners. Our integrative curriculum cuts across the subject matter lines and brings together various aspects of the curriculum, making it meaningful and engaging to students in real life experiences.  The learning opportunities provided through the curriculum allows opportunities for our students to experience success in all four aspects of the middle years schooling; academic, cultural, sporting and social, while recognising and being responsive to their cultural heritage. Examples of the special programmes currently running, that cut across all aspects of the curriculum are, 'Stuff n Nonsense' and the Ceramic Mosaic Kete Kai gardens  beautification project.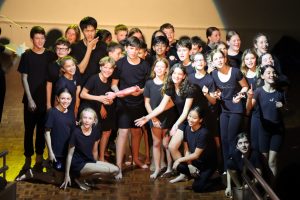 The Stuff and Nonsense team have been captivating audiences all week with their Shakespearian humor, timely one liners and subtle movements.  The show and dialogue is co constructed between our Head of Arts, Mark Jensen and the students performing. This year, Stuff n Nonsense is in its 20th year! The production team and cast have spent many hours perfecting their routines in preparation for performing to their peers and the community, ultimately displaying competencies such as collaboration, perseverance, performance and public speaking; all this while having fun and understanding Shakespeare. We certainly wish you all the best for your remaining performances.
Also promoting the arts, is the beautification of our Kete Kai gardens in the Biotechnology area. Again, this programme has been co constructed between Acting Head of Technology (and art teacher), Amanda Gummer, and our students. The objective of the programme was to beautify large concrete pipes used as pots by covering them in ceramic mozaic patterns designed by our students. The completed project is visually stunning with the garden certainly coming to life with design and colour. Intricate pattern design and very accurate art work has certainly given this area a huge lift. Congratulations to Mrs Gummer and all the students involved for their creativity and patience in transforming this area.
We certainly welcome parents into school next week for Parent/Teacher interviews. For many parents this could possibly be their first time into school and the classes, obviously due to previous covid restrictions. We welcome you onsite and I am sure the interviews will give you an accurate insight into how your child is progressing at Northcross.
Nga mihi nui
Jonathon Tredray
Prinicpal